Public Pick-up Points
Thanks to the kind co-operation of local businesses and institutions, the latest copy of The Advertiser can be picked up from a number of different locations.
Royal Wootton Bassett
Post Office, 33 High Street
Public Library, Borough Fields
Quick Lee Cleaners, Borough Fields
Town Council offices, 117 High Street
The Butcher's Mate, 120 High Street
Crumps Butchers, 120 High Street
Haine and Smith, 140 High Street
Rapid Hire/Rapid Fix, Coped Hall
Marsh Farm Hotel, Coped Hall
The Angel, 47 High Street
Central Convenience Stores, 38F Gainsborough Avenue
Costa Coffee, 16 Borough Fields
Sainsbury's, Borough Fields
Marshall's Bakery, Borough Fields
Bowman House Business Centre, Bowman House, Whitehill Lane
Lime Kiln Leisure Centre, Lime Kiln
Wiltshire Tyres, Cannons Industrial Estate
Wootton Basset Tyres, Templars Industrial Estate
Cridge Auto Services, Whitehall Industrial Estate
The Bolingbroke, Hook
The Sally Pussey Inn, RWB
The Churchill, RWB
Greatfield Garden Centre, Greatfield
Brinkworth House
Regular small drops are made to other High Street stores, eateries, and many other locations throughout the town.
Lyneham
Lyneham Public Library, Memorial Hall
Lyneham Pizza and Kebabs, Calne Road
Zeera, Calne Road
New Kai Tak, Calne Road
St Andrews Court, Lyneham Post Office and Pharmacy, The Green
Edmunds Garage, The Green
Tesco Express, 22A Calne Road
Co-operative store, 45 Church Lane
Broad Hinton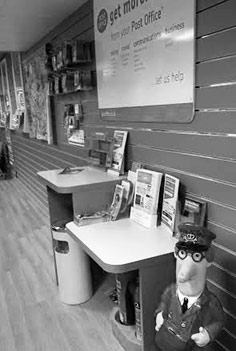 The Advertiser in pride of place in Wootton Bassett Post Office - with Pat standing guard!