Public Pick-up Points
Thanks to the kind co-operation of local businesses and institutions, the latest copy of The Advertiser can be picked up from a number of different locations.
Royal Wootton Bassett
Post Office, 33 High Street
Public Library, Borough Fields
Town Council offices, 117 High Street
New Court Surgery, Borough Fields
Tinkers Lane Surgery, Tinkers Field
Londis Supermarket, 38F Gainsborough Avenue
Costa Coffee, 16 Borough Fields
The Enterprise Network, Manor House, High Street
Bowman House Business Centre, Bowman House, Whitehill Lane
Lime Kiln Leisure Centre, Lime Kiln
Post Office Delivery Office, Templars Way Industrial Estate
High Street stores and eateries
…and many other locations throughout the town.
Lyneham
Lyneham Public Library, Memorial Hall
Edmunds Garage, The Green
Tesco Express, 22A Calne Road
Co-operative store, 45 Church Lane
Broad Hinton
Broad Hinton Saddlery & Pub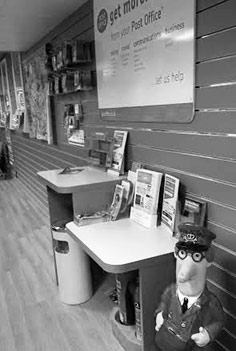 The Advertiser in pride of place in Wootton Bassett Post Office - with Pat standing guard!